Real Estate
Top 10 Reasons to Become an Owner
at Trapper's Landing Lodge
Resort Lifestyle Vacations: Arrive like you own the place…because you do!
Family Memories! Enjoy shooting stars, stories around the bonfire, waking up to waves on the shore. These are the good times!
No Chores! All interior and exterior maintenance is handled by resort housekeeping and facilities staff.
All Play! All the toys your family can enjoy are here from lawn games and playground fun to boat rentals.
No Security Worries: unlike a vacant vacation home, we have staff onsite everyday to make sure your home is safe and secure.
Rental Income Opportunity: when you are not using your home, rental income through the management company is split 50/50.
Purchase what You'll Use: Fractional ownership is still ownership, but allows you to purchase single or multiple sixth or quarter shares.
Leech Lake is MN's 4th largest lake: walleye and muskie fishing destination, limited development will maintain pristine natural beauty.
Current market trends show increase of primary home values while interest rates remain low.
Your Leech Lake Lasting Legacy: this is your property to sell or pass on for the enjoyment of future generations…
Not just a lake place… Your lake place
The "up north" Minnesota cabin is an icon. It calls to mind not just a structure or place – but a mood. Trapper's Landing Lodge will become your special place. A place of family traditions, a place to celebrate your special events, a place where life's distractions are held at bay. And, a place for those defining memories that are passed from generation to generation.
Trapper's Landing Lodge provides a unique opportunity for you to own a vacation home on Leech Lake, one of Minnesota's finest recreation lakes. With several ownership plans to choose from, we know the most difficult decision will be deciding whether whole ownership or a fractional share is best for your family's lifestyle.
This special eighteen acre property is canopied with mature trees that provide natural beauty in all seasons. The Leech Lake shoreline measures 1600-feet and includes a sandy swimming beach that is perfect for warm sunny days. And, unique to this resort property is a protected marina with 51 boat slips and one of the few private boat landings.
Our luxury lakeside homes offer features and interior comforts that families desire today – open living space for cooking, dining and gathering, spacious master bedrooms, master baths with spas and walk-in showers, kitchens with Cambria® countertops, stainless steel appliances and custom cabinets. And of course… a lakeside screen porch designed for catching an afternoon nap.
Design detail is found on the exterior of each home as well. Liberal amounts of beach stone grace our entries and fireplaces. Log purloins and brackets will set off the cedar shakes and board and batten siding highlight the exterior with a splash of color.
Trapper's Landing Lodge offers affordable lake home ownership with all of the lifestyle advantages of resort accommodations. These Minnesota lakeshore cabins allow you to fully enjoy your entire vacation, while we take care of the housekeeping and maintenance upkeep.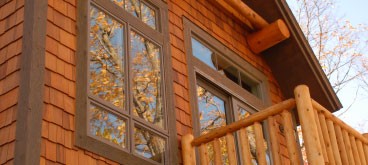 Maintenance-free
Our housekeeping and maintenance staff will have your home ready to welcome you upon arrival. This allows you to spend all of your vacation time, actually relaxing and enjoying yourself with leisure activities, not with typical cabin chores.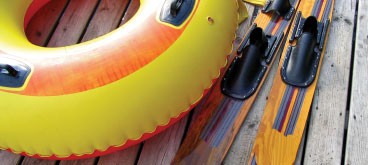 Resort Amenities and Activities
All of the activities programs created for guests of the resort are also available for you to enjoy…have fun at the pool, relax in the sauna, watch the kids enjoying the complimentary waterskiing and tubing, build yourself a campfire with the pre-cut wood and of course partake in the number one favorite resort activity, smores!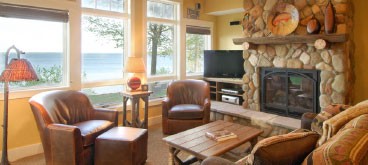 Rental Revenue Potential
The rental management program is optional for owners at all Odyssey Resorts. It is a desired program by the vast majority of owners who know their vacation home investment is well looked after and maintained, while being well marketed to maximize rental revenue and property values. Owners receive 50% of rental revenue, shown on monthly owner statements.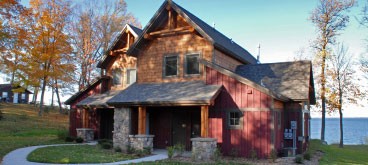 Reputable Builder / Long-term Management
The reputation of Odyssey Development goes back 25 years and spans multi resort properties including four under its current management model. That is the single biggest point of difference – what has been built by Odyssey Development is still managed by Odyssey.  The design and construction are built to last, as are our relationships with guests and owners alike.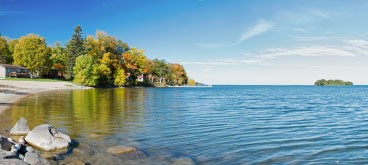 Premier Lake / Premier Location
Leech Lake is Minnesota's fourth largest lake and especially well known for its fishing and recreational activities.
Owners of Odyssey Resort vacation homes have chosen well. The lifestyle advantages begin with a maintenance-free vacation home…this is not your parent's cabin where half of your vacation time was spent cutting the grass and making home repairs.  This is Your vacation home, to suit your family's needs and comforts. You'll arrive each trip to a freshly cleaned home, and leave without a care knowing that the housekeeping staff will see to the clean up. You'll have the equity of ownership with the ease of rental, and the advantage of amenities like a pool, marina and boats without the associated cost and upkeep.
Your Minnesota lake home comes with complete access to an extraordinary variety of recreational opportunities. Explore the Paul Bunyan State Recreational Trail, Heartland Trail, Chippewa National Forest, Itasca State Park and dozens of other venues for hiking, biking, in-line skating, kayaking, and canoeing. The Leech Lake area offers diverse fishing with a variety of species. Experience the thrill and excitement when the last cast snags the big one. Walleye, Northern Pike, Muskie, Bass, Panfish — we have it all. Miles and miles of open water with many bays make Leech Lake perfect for sailing crafts of any size. There are many area golf courses, including two championship courses – Long Bow Golf Club and Tianna Country Club. The autumn months attract hunters from all over the Midwest in search of deer, duck and grouse. Wintertime in the Leech Lake area creates a sparkling white playground for all ages. With the snow comes an abundance of activities to suit everyone's tastes. There are literally hundreds and hundreds of miles of groomed trails for snowmobiling. The famous Heartland and Paul Bunyan Trails are two of the best! The Shingobee Recreation Area provides miles of trails for cross-country skiing and the sledding hills also provide great fun for kids of all ages – the warming chalet is also available to give those fingers and toes a quick warm-up. Ice Fishing wasn't invented in Leech Lake … just perfected. All winter long, everything is biting…but perch are the specialty. Whatever you seek, the Leech Lake area offers memorable year round Minnesota vacation adventures, with a variety of recreational activities.
The Walker Lakes area is home to an array of unique festivals celebrated every season. The following are just a few:
The Moondance Jam Music Concert is held each July and can be considered Minnesota's largest Rock-n-Roll concert with the likes of the Steve Miller Band, Guess Who, Little River Band, Heart and the Doobie Brothers – currently in its 16th season.
The Leech Lake Yacht Club hosts the Annual Leech Lake Regatta in August. The Regatta is a multi-class boating race that sailors of all levels of experience will enjoy. The Regatta and its festivities last for three days and entice sailors from all over the country. Racing is a combination of distance and triangle races on both Walker Bay and the "Big Lake".
The International Eelpout Festival in February has been tempting masses of pouters and tournament patriots to Leech Lake for over 25 years. Heralded as Minnesota's finest display of sportsmanship and ice antics, the Eelpout Festival is an experience not to be missed. The activities during the Eelpout Festival are plentiful. The celebration begins with the Opening Ceremony, the rest of the day is spent out on the lake fishing for the perfect Eelpout. You won't want to miss out on the Best Eelpout Encampment — come see the custom-made fish houses, and the ice races on the lake always draw a crowd.
Just a short drive away Walker, Park Rapids and other nearby communities each present their own style of shopping, local culture, history, sports and the arts. Music, theater, live entertainment, and competitive athletic events take place all year long. Museums and art galleries present the talents and stories of those who settled the area. The Northern Lights Casino is just minutes away and features national entertainment, as well as gaming. There are activities for every interest from the sportman's club to the tour at Forestedge Winery. Seek out and discover local artists and craftsmen, one–of–a–kind restaurants and specialty shops, and little, out–of–the–way spots that will become part of your Minnesota vacation memories.
Lake Homes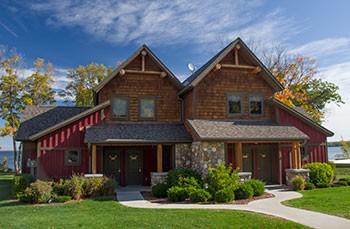 Three Bedrooms
Whole, Quarter and Sixth Shares available
Hudson Bay Cabins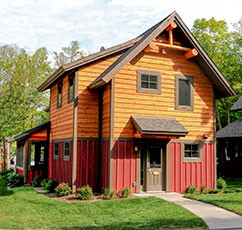 Two or Three Bedrooms
Whole and Quarter Shares available
Shares
Whole Share 52-weeks/year
Quarter Share 12-13 weeks/year
Sixth Share 8-9 weeks/year
Fractional and Whole Ownership Options
The first thing you need to know, is the difference between purchasing a Fractional Ownership, Shared Ownership or timeshare.
Fractional and Shared Ownership are used interchangeable. As defined by Wikipedia (1.18.2011) fractional ownership is a percentage share of an expensive asset. Shares are sold to individual owners. A fractional owner enjoys priorities and privileges, such as reduced rates, priority access on holidays and income sharing. Typically, a company manages the asset on behalf of the owners, who pay monthly/annual fees for the management plus variable (e.g. per-hour, per-day) use fees.
A timeshare is defined by Wikipedia as: A timeshare is a form of ownership or right to the use of a property, or the term used to describe such properties. These properties are typically resort condominium units, in which multiple parties hold rights to use the property, and each sharer is allotted a period of time (typically one week, and almost always the same time every year) in which they may use the property. Units may be on a part-ownership or lease/"right to use" basis, in which the sharer holds no claim to ownership of the property.
Many owners prefer to purchase the whole unit for 52 weeks of use per year. This of course allows them unlimited flexibility on when to personally use of their lake home or cabin, or if they are in the rental management program, when to rent their home for rental income.
When you purchase a fractional share at Trapper's Landing Lodge, you are purchasing a deeded interest in a vacation home. This is a prime piece of Minnesota vacation real estate that you own, with all of the amenities of a luxury north woods resort, without the responsibilities of maintenance, repair or upkeep.
Your purchase entitles you to use the entire home – and all of the resort services. A quarter-share allows you one full week at least every month, all year long, for a total of 13 weeks. And a sixth-share allows you two weeks every season, all year round for a total of 8 weeks each year. Thus, when you purchase your home, you receive exclusive use to a "basket" of 8 or 13 weeks each year. These designated weeks begin on Friday night and extend to the following Friday at noon.
Your designated "basket of weeks" rotates on an annual basis. This gives every owner a chance to enjoy all of the major holidays and prime vacation weeks at least once during the four or six year cycle. It's totally up to you to decide how to spend your time. Come and bring the family for a whole week. Or escape to the north woods for a day or two of personal time. Let a group of your friends use it. Donate one of your weeks to a charity auction. It's your time to do with as you please. If there is a time when you would like to stay in your home during an alternate week, we will try to arrange a trade with the other owners. If you are unable to use your home during one of your weeks, we will look for a renter at your request*. Each Trapper's Landing Minnesota vacation rental is a prime vacation property on Leech Lake.
Your Minnesota cabin is both a family home and a unique real estate opportunity. One of the most attractive features is that these properties-with all the amenities, support services and resort accommodations-are available at a fraction of the cost of what it takes to build, furnish and maintain a new home on Leech Lake. And the home is all yours for 8 or 13 weeks every year. You're purchasing more than the amount of time most families ever spend in a vacation rental -with the freedom and financial resources to travel elsewhere at other times.
*The rental management program is optional for all owners through Odyssey Resorts.
Three Bedroom Lake-side Home
2040 Square Feet • Whole, quarter & sixth shares available
Board and batten and shake-style siding
Forty-year Timberline asphalt shingles
Lakeside wood deck (upper level)
Environmentally sensitive treatment of storm water from buildings
Professionally designed landscape plan
2 x 6 exterior walls with vapor barrier
R51 ceiling insulation
Anderson® windows
Lakeside paver patio
Patio furniture for four
Gas grill
Stone surround fireplace
Plush carpeting
Surround sound stereo
Dining for eight
Tounge-in-groove wood ceiling
Flat screen TV/DVD with satellite system
Telephone / ethernet wiring
Owners' utility room with washer, dryer, furnace, forced air & central air conditioning and locker
King sized bed
Tile & stone flooring in bath
Tiled walk-in shower
His and Her sinks
Custom designed steam shower
Custom vanity
Armoir with TV and DVD
Designer stainless steel appliances
Custom designed wood cabinetry
Cambria® granite-style island counter-top
Island with seating for three
Designer coffee maker, blender, toaster and appliances
Cutlery, crockery and glassware for eight
Tile flooring
Wicker love seat and chairs
Large lakeside windows open for fresh lake air Decorator ceiling fan
Open to living room, dining room and kitchen.
Master Lakeview Suite with Bath
King-size bed with down blanket and custom bedding
Flat screen TV/DVD with satellite system
Stone surround gas fireplace
Lakeside walk-out Balcony
Microwave, toaster, coffeemaker, mini-fridge, dishes/glassware for two
Private bath with tile floor, designer counter/vanity with double sink, double whirlpool tub, walk-in tiled shower.
Queen-size bed with down blanket and custom bedding plus upper single bunk
Flat screen TV/DVD with satellite system
Coffeemaker
Private bath with tile floor, designer counter and tub
Hudson Bay Cabins
1544/1316 (3BR/2BR) Square Feet • Whole & quarter shares available
Board & batten with cedar lap siding and log accents at the center entrance and gable
Professionally designed landscape plan
Forty-year Timberline asphalt shingles
2 x 6 exterior walls with vapor barrier
Lakeside wood deck or paver patio
Environmentally sensitive treatment of storm water from buildings
R51 ceiling insulation
Stone surround fireplace
Flat screen TV/DVD with satellite system
Plush carpeting
Comfortable seating for five
Tongue-in-groove wood ceiling
Master Bedroom & Bath (3 Bedroom Only)
King size bed with down blanket and custom bedding
Flat screen TV/DVD with satellite system
Private walk-out to paver patio
Private bath with tile floor, designer counter/vanity and walk-in shower
Designer stainless steel appliances
Cutlery, crockery and glassware for six
Custom designed wood cabinetry
Full compliment of counter appliances
Tile flooring
Appliances – (stainless steel package optional)
Dining room table for six
Wicker love seat and chairs
Decorator ceiling fan
Tongue & Groove interior walls and ceilings
Utility Room (Owners' only)
Washer and dryer
Storage locker
Gas furnace, forced air and central air conditioning
King size bed with down blanket and custom bedding
Flat screen TV/DVD with satellite system
iPod docking system
Full-size bed plus single size bunkie to sleep three
Double sink vanity
Tub with shower
Tiled flooring
Or Call Heather
(877) 688-6574
Lake Homes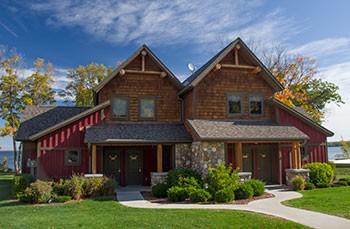 Hudson Bay Cabins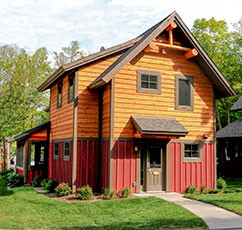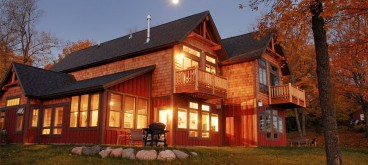 Fully-furnished, lake-side homes with up to 3 bedrooms and 3.5 baths. These homes were built in 2007 and truly are stunning throughout. Gas fireplaces, lakeside balconies, whirlpools tubs, steam and steam showers are just a few of the amenities. Take a look for yourself.
Current Listings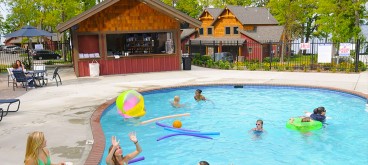 What makes owning at Trapper's Landing different? All the resort extras. A heated outdoor pool, sauna, on-site restaurant and bar, safe-harbor marina, boat rentals, amazing staff, kids' camp, and on-site fishing guides. Sound pretty good? That's just the start!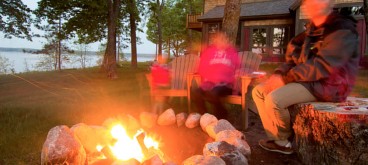 We know you'll fall in-love with our homes at Trapper's Landing, so we've put together some special offers. Give us a call and we'll customize everything… just for you.
Purchase Incentives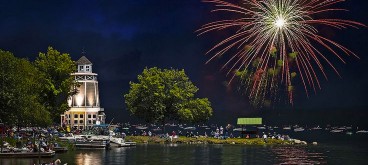 Walker, MN is a short drive from the Twin Cities with all the up-north, small town charm you'd expect from Northern Minnesota. From boutique shopping, to sporting goods, to a variety of dining options; there is always something to do. And the there is the lake! Leech Lake is the 4th largest lake in Minnesota with amazing walleye fishing, great recreational opportunities, and minimal boat traffic. There are also state parks in the area as well as a series of trails for both summer and winter fun!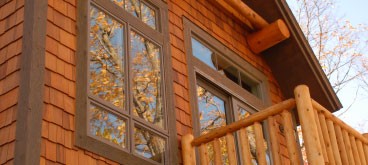 Have you ever owned a cabin or known someone who has? Chances are they spend a lot of their time working on maintenance and chores… not at Trapper's Landing. Our housekeeping and maintenance staff will have your home ready to welcome you upon arrival. This allows you to spend all of your vacation time, actually relaxing and enjoying yourself with leisure activities, not with typical cabin chores.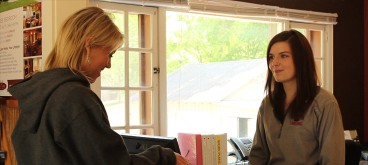 With most lake cabins, you have to worry about security when you aren't there. You never know what might happen when you are gone. Owning at Trapper's Landing means you'll never have to worry about the safety of your cabin. We're always there watching, and checking-in to make sure everything is as it should be. 24/7. 365.
Make this Your Lake Home!
Call Heather Hauser at (877) 688-6574.
Bill Hansen Realty, Walker MN