Historic Merit Cabins
These are nice, rustic 30 year old cabins that were a part of the old Merit Resort. They have been updated, but retain all of their "old world" characteristics. They are clean and comfortable, and a more affordable option for fishing trips or families traveling with pets. All of our Merit Cabins are pet-friendly.
Our Merit cabins give an affordable alternative for monthly and full summer rentals! Please call to inquire about special rates for anything longer than a one week stay. These cabins open for the summer season starting with the MN Fishing Opener weekend and are available through mid-September.
Three Bedroom Merit
This Minnesota lake cabin has one master bedroom with a Queen size bed, one room with two twin size beds and a third room with two twin size beds. The cabin has a large private bath, full eat-in kitchen with stainless steel appliances, large living room with flat-screen TV/DVD and air conditioning. All units are lakeside with large private decks and spectacular views of Leech Lake. The cabin also has a fire pit and charcoal BBQ grill. Pet-friendly. Sleeps up to 10.
Check Availability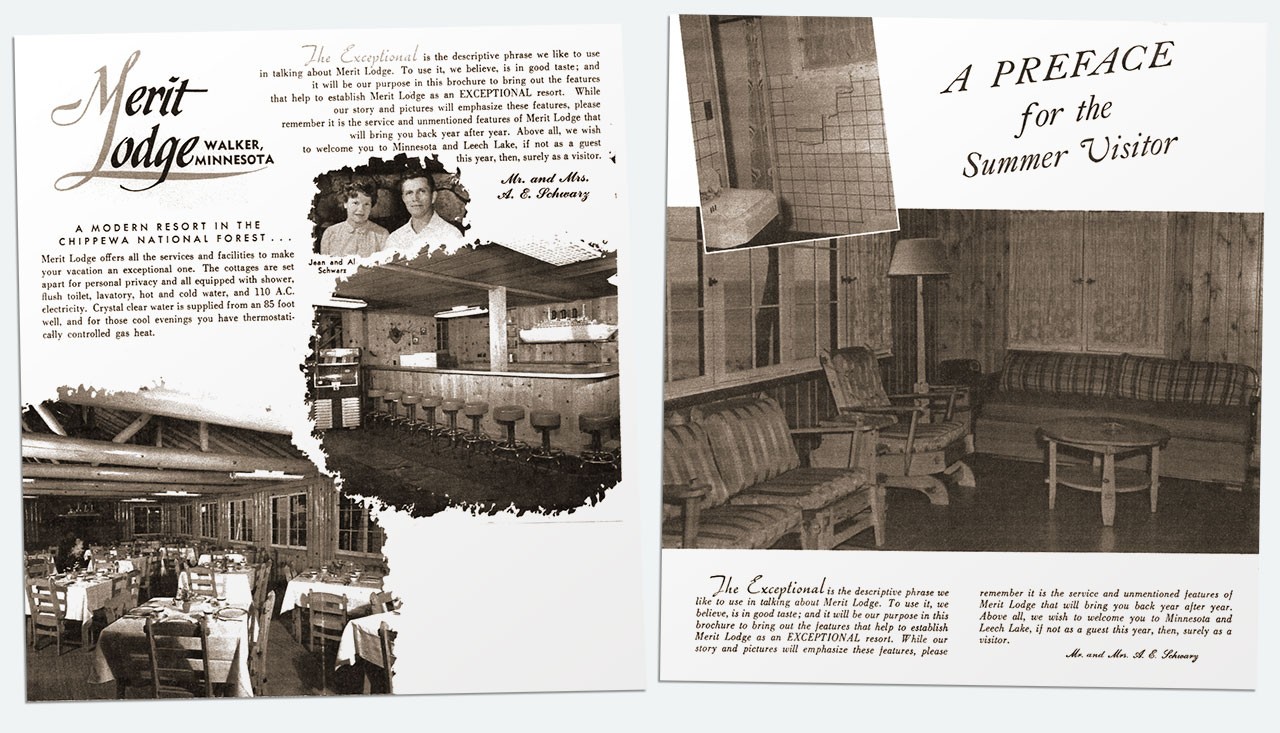 transcription
A modern resort in the Chippewa National Forest

Merit Lodge offers all the services and facilities to make your vacation an exceptional one. The cottages are set apart for personal privacy and all equipped with shower, flush toilet, lavatory, hot and cold water, and 110 A.C. electricity. Crystal clear water is supplied from from an 85 foot well, and for those cool evenings you have thermostatically controlled gas heat.
transcription
A Preface for the Summer Visitor

The exceptional is the descriptive phrase we like to use in talking about Merit Lodge. To use it, we believe, is in good taste; and it will be our purpose in this brochure to bring out the features that help to establish Merit Lodge as an EXCEPTIONAL resort. While our story and pictures will emphasize these features, please remember it is the service and unmentioned features of Merit Lodge that will bring you back year after year. Above all, we wish to welcome you to Minnesota and Leech Lake, if not as a guest this year, then, surely as a visitor.

Mr. and Mrs. A. E. Schwarz
Our Commitment to The Exceptional
At Trapper's Landing Lodge we're just as committed to exceptional service and amenities as the Schartz's who originally opened The Merit Lodge on Leech Lake.
The Merit Cabins are a quaint look at the luxury of yesteryear when flush toilets and electricity were considered features. They've been updated for the 21st century, of course, and you'll find them perfectly comfortable. But our commitment to quality is most evident in our beautiful Lake Homes and Hudson Bay Cabins.