Boat Rentals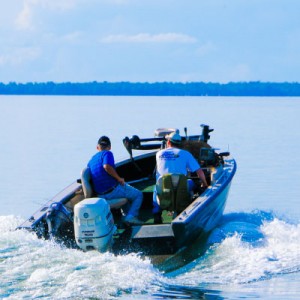 Boat Rental
Trapper's Landing Lodge wants to make your next fishing vacation a fun and memorable one. Even if you own a boat, you may want to leave it at home, and take a spin in one of our top of the line 2007 Lund Alaskan aluminum fishing boats with 50 HP Honda motor. All you need to bring is your fishing license and your lucky rod! At our on-site marina you can rent your boat, stock-up on snacks and sunscreen, even pick-up some new tackle and live bait. Ask our staff where you can find the most walleye, northern and large-mouth bass. Try for a record-breaking muskie or invite the kids along for some bobber-watching and reeling in sunnies and crappies. We make your fishing vacation all about fishing – no towing boats or parking trailers – just hop in and head to the hot spots on one of Minnesota's top Walleye lakes!
FISHING BOAT
2007 18′ Lund Alaskan boat with 50HP Honda 4-stroke
(1) 3 seat boat, (1) 4 seat boat – 7 people or 1050lb
Half Day: $125 + tax & gas
Full Day: $175 + tax & gas
Week: $1050 + tax & gas
SPEED BOAT
19′ Sea Ray Speed Boat
8 people or 1100lb
Half Day (only 2-6pm): $175 + tax & gas
Full Day (only available Sundays): $250 + tax & gas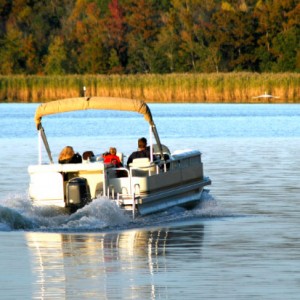 Pontoon Rentals
Leech Lake is one of Minnesota's premier family lakes, perfect for fishing and recreation. For the ultimate Leech Lake experience rent one of our 2007 Princecraft 22.5′ Vantage Pontoon boats. Pontoons are perfect for a full day on the water, and these spacious boats offer ample seating and storage for all your fishing gear and water toys, a deck perfect for taking in the landscape and an awning to offer a little shade when you need it. Our 22.5′ Pontoons offer plenty of room for all the family and friends, and are great for fishing, waterskiing, tubing, swimming or exploring the islands and beaches of Leech Lake – just pack a lunch, or order a lunch "to go" from the BeachFire Grille, pack your gear and sunscreen and our marina staff will launch you into a day of family fun!
PONTOON BOAT
24′ South Bay Pontoon
with 115 hp Mercury
10 people or 1100lbs

Half day: $250 + tax & gas
Full day: $300 + tax & gas
Weekly: $1750 + tax & gas
23′ Prince Craft Pontoon
with 50 hp Mercury Engine
10 people or 1100lbs

1 hour: $75, additional hours $25/ea + tax & gas
Half Day: $150 + tax & gas
Full Day: $200 + tax & gas
Weekly: $1225 + tax & gas

Half Day (9am – 1pm)  or  (2pm – 6pm) • Full Day (9am to 6pm )
Boat rental prices do not include tax or gas. Boat, Pontoon and Jet Ski renters must be at least 21 years of age. Minimum age for lifejacket is 10 & under – we provide them. For non-lodging guests: A non-refundable 50% deposit is taken by credit card at the time of booking.
Cancellation Policy
Guest: We ask for a 48-hour courtesy cancellation.
Non-guest: 50% deposit due at the time of booking and is NOT refundable for any reason. Please make sure you go over this with each non-guest as this policy has changed over the years. Only weather cancellation is due to thunder storms or high winds and is determined by Trapper's Landing Managers. Payment in full due at check-in.
CALL US:
(218) 836-2500
Make a Reservation