Fishing Report 05.24.17
June 5, 2017
0
Fishing right now on the lake is good for most anglers. We have been hearing good reports of walleye being caught during the day in 12-16 feet of water. Most anglers are finding their fish using Jig/Minnow combinations or using Lindy Rigs with Leeches. Check out these spots close to Trappers: Pipe Island, Rogers Point, Variety Reef, West Bar and Annex. During the evening you can catch walleye in the shallows pitching Jigs and Minnows up towards the windy points or using a Rapala Husky Jerk.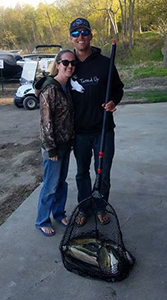 The panfish action has slowed a little bit this week due to a little cold front we are having. The crappie are biting in the Trapper's Marina right now. Grab your favorite panfish rod, and have a bobber set up with a crappie minnow.
We will have shiners, fatheads, rainbows, leeches and crawlers ready for this upcoming holiday weekend. Come stay with us and use any of our Pro Shop gear for free! Just launching, but need gear? Gear is available for rent at our new Check-In Lodge. Trapper's Landing is now offering Your Boat Club member & public rentals – check YourBoatClub.com for availability.
Good luck and hope to see you on the water.