Ice Road & Ice Fishing Report 01.30.18
January 30, 2018
0
Ice Conditions
Ice conditions remain good out on our end of the lake. We are open to all vehicle sizes on and off the roads. We currently have 4-6 inches of snow off the roads with some drifts that are about 12". Usually, these drifts are going to be where people had a wheelhouse previously. Look ahead and bring a shovel just in case.
Fishing Report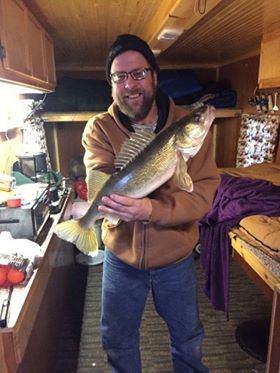 Walleye fishing has remained spotty. The daytime bite still remains slow for walleye, but the lowlight hours are when they are active. The wheelhouse fishing is in deeper water 20-30 ft, on the bottom edge of a break line is the best. While the mobile angler, fishing out of a truck or snowmobile is finding their fish in 10-15 ft. Areas to look for near the Trapper's Roads are Variety Reef, Rogers Point, Big Rock Reef and Horse Shoe Bay Reefs. Get away from the crowds to find the most active fish and make sure there are some rocks nearby.
Tullibee and Whitefish continue to be caught during the day in the deep water basins near Rogers Point, Diamond Point, and Paris Trench. Make sure you are drilling holes and keeping mobile with these roaming fish. Tip your jigging spoon with wax worms, euro larvae or a minnow head to get a few of these topsides.
Perch action did pick up with the warm weather we had last week, with some jumbos being caught near Miller Bay, Campbell's reef, and the Brevik narrows. Fish shallow in less than 12 ft and look for large flats that are in this depth.
Looking ahead
It looks like we will have some more stable weather as we head into the weekend, which usually is a good sign for fishing. We are not expecting any measurable snow this week which will make travel on the lake good. We will have shiners and fatheads available for bait this weekend. The Merit Lakeside Dining & Cocktails will be open with Chinese Buffet on Thursday(4P-9P) and Fish Fry on Friday(4P-9P) along with being open for lunch at 11A on Saturday(11A-9P). We still have some great lodging availability for this weekend. Keep safe on all your outdoor adventures and we hope to see you on the ice.