Leech Lake Ownership Opportunities
Hassle-Free Vacation Home Ownership
The Next Generation
New Lake Lots & Lake Homes
Hassle-Free Resort Lake Home Ownership
New Construction Lake Homes… Move-In Ready in August 2022, starting at $799,000
Resort Homes with Rental Income
---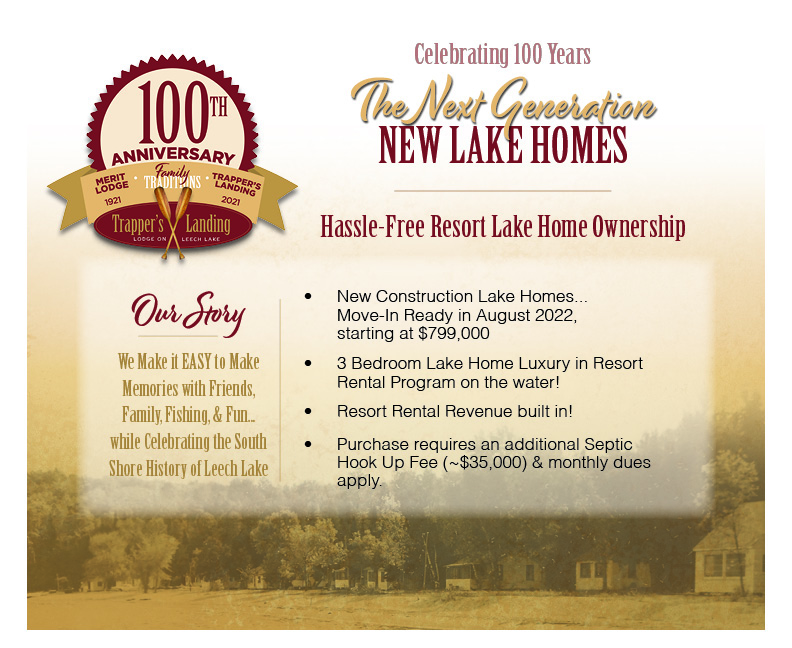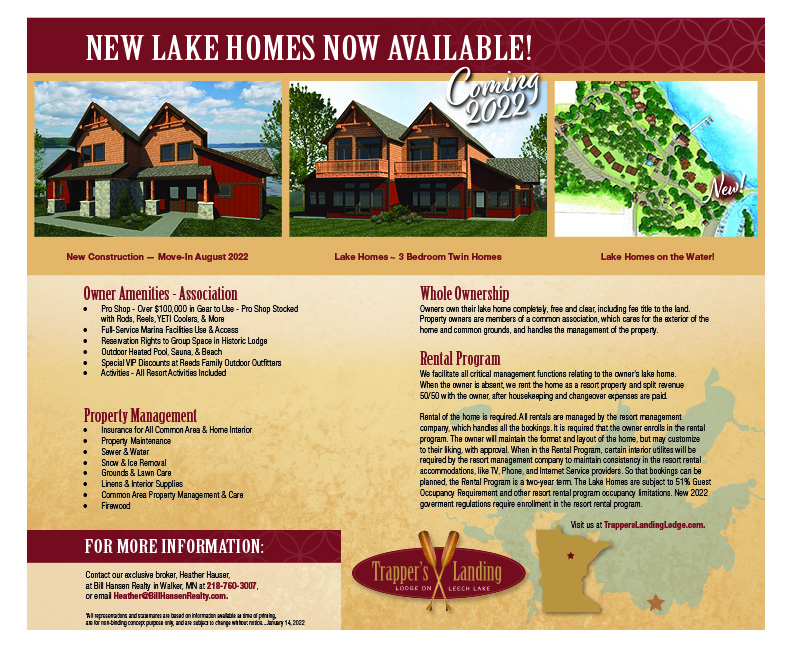 For More Information: Contact our exclusive broker, Heather Hauser, at Bill Hansen Realty in Walker, MN at 218-760-3007, or email Heather@BillHansenRealty.com.
*All representations and statements are based on information available at time of printing, are for non-binding concept purpose only, and are subject to change without notice.

We Make it EASY to Make Memories with Friends, Family, Fishing & Fun… While Celebrating the South Shore History of Leech Lake
Owner Amenities – Association
• Pro Shop – Over $100,000 in Gear to use – Pro Shop Stocked with Rods, Reels, Yeti Coolers & more.
• Full-Service Marina Facilities Use & Access
• Reservation Rights to Group Space in Historic Lodge
• Outdoor Heated Pool, Sauna & Beach
• Activities – All Resort Activities Included
• Special VIP Discounts at Reeds Family Outdoor Outfitters
• Typical Ownership Investment – $500 Monthly Base
Property Management
•  Insurance for All Common Area & Home Interior
• Property Maintenance
• Sewer & Water
• Snow & Ice Removal
• Grounds & Lawn Care
• Linens & Interior Supplies
• Common Area Property Management & Care
• Firewood
Note: Capital Improvements approved by the Association are assessed as additional amounts when they occur.
Whole Ownership
Owners own their lake home completely, free and clear, including fee title to the land. Property owners are members of a common association, which cares for the exterior of the home and common grounds, and handles the management of the property.
Rental Program
We facilitate all critical management functions relating to the owner's lake home. When the owner is absent, we rent the home as a resort property and split revenue 50/50 with the owner, after housekeeping and changeover expenses are paid.
Rental of the home is required. All rentals are managed by the resort management company, which handles all the bookings. It is required that the owner enrolls in the rental program. The owner will maintain the format and layout of the home, but may customize to their liking, with approval. When in the Rental Program, certain interior utilities will be required by the resort management company to maintain consistency in the resort rental accommodations, like TV, Phone, and Internet Service providers. So that bookings can be planned, the Rental Program is a two-year term. The Lake Homes are subject to 51% Guest Occupancy Requirement and other resort rental program occupancy limitations. New 2022 government regulations require enrollment in the resort rental program.
Walker, MN is a short drive from the Twin Cities with all the up-north, small-town charm you'd expect from Northern Minnesota. From boutique shopping to sporting goods, to a variety of dining options; there is always something to do. Leech Lake is the 4th largest lake in Minnesota with amazing walleye fishing, great recreational opportunities, and minimal boat traffic. There are also state parks in the area as well as a series of trails for both summer and winter fun!
Have you ever owned a cabin or known someone who has? Chances are they spend a lot of their time working on maintenance and chores… not at Trapper's Landing Lodge. Our housekeeping and maintenance staff will have your home ready to welcome you upon arrival. This allows you to spend all of your vacation time, actually relaxing and enjoying yourself with leisure activities, not with typical cabin chores.
With most lake cabins, you have to worry about security when you aren't there. You never know what might happen when you are gone. Owning at Trapper's Landing Lodge means you'll never have to worry about the safety of your cabin. We're always there watching, and checking-in to make sure everything is as it should be. 24/7. 365.