Ice Fishing Leech Lake
ICE ROAD IS CURRENTLY CLOSED!
Hope to Open December 26 to the Public!
We are proud to have the best ice fishing experience that Leech Lake has to offer. Our 10′ x 22′ luxury ice houses provide our guests with all the comfort and amenities of Trappers Landing Lodge, plus the added excitement of staying on the ice all night. All ice houses come stocked with gear including an Ion Ice Auger, Fenwick Rods, an Aqua Vu underwater camera and a Vexilar Flasher
Leech Lake Ice House Rentals from Reeds & Trapper's Landing Lodge.
Best Rental Prices on Leech Lake.
All Houses Come Equipped with a Flasher, Underwater Camera, & Fenwick Rods.
2-night minimum stay. 
Book Online or Call us at (218) 836-2500!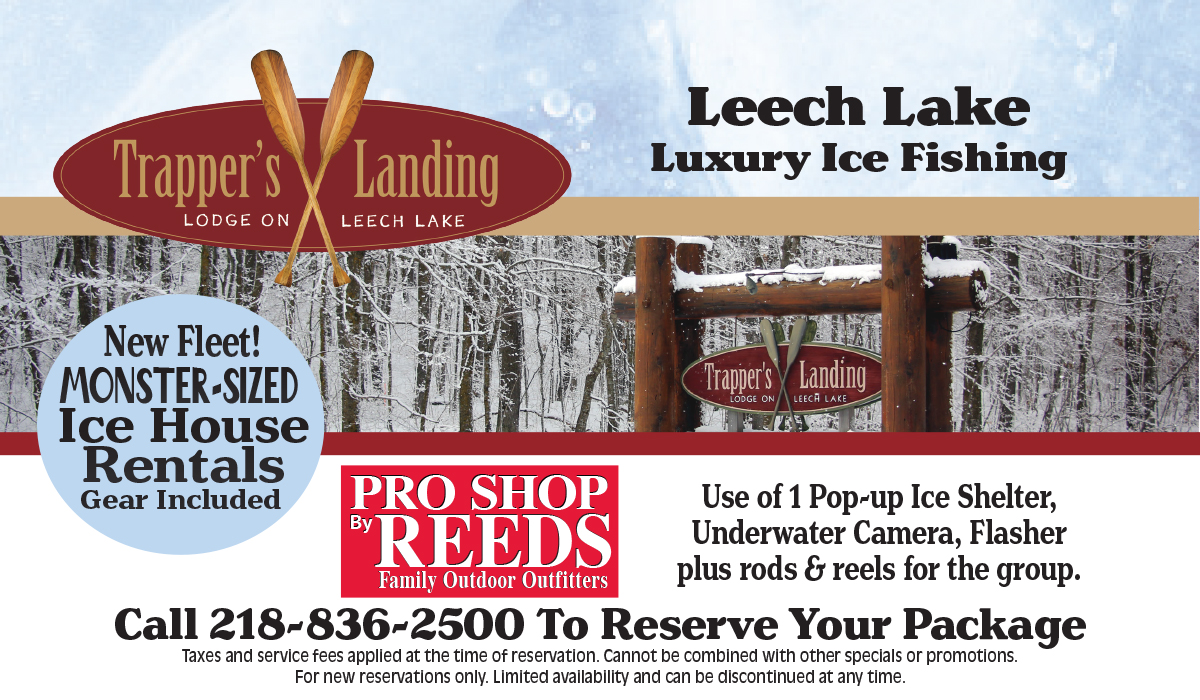 Check In / Check Out
Check In Times will begin 2pm.
We want to make sure you are comfortable running your fish house before we leave you, please let us know when you plan to arrive so we can stagger check in times.
Check Out Time is 10AM.
Our lodge is open Monday-Thursday: 9am – 5pm, Friday and Saturday: 9am – 6pm and Sunday 9am – 1pm. Please let us know if you need to arrange a special checkout time.
Resort Amenities
• Fish cleaning is available in the Marina
• Bait is available for purchase on site.
• Dogs are welcome for a one-time $30 fee
• The Merit Restaurant is currently closed due to COVID restrictions
• Lodge store is open Monday-Thursday: 9am – 5pm, Friday and Saturday: 9am – 6pm and Sunday 9am – 1pm.
What's Included in your Fish House Rental
• Two 40" TV, Radio with DVD player & USB connection.
• Auxiliary ports are located throughout the fish house.
• 4 Beds for sleeping (some are pullouts)
• Two stove top burners and oven (small)
• 8 ice fishing holes
• Lake Map
• Rattle wheels with line and ready to fish
• Garbage can, broom and liners
• Ice scoop, fish measuring stick, all the gear Vexilar FL-8, Fenwick Rods, Underwater Camera,  Flasher, Rattle Wheels preset to depth & a Berkley Bucket.
• Batteries
What you need to Bring
• Generators and Gas are Recommended.
• Bedding & Pillows (bedding not included)
• Cooking gear (pots, pans, cooking and eating utensils)
• Water for drinking & cooking (running water not included)
• Personal Fishing Gear we have bait on-site to purchase.
• Cell Phone Charger or other electronics you need.
• Portable Restrooms are located on the shore at Trapper's Landing Lodge.
• Please bring all your personal care items.
• Fishing License – please buy your fishing license online or at Reeds in Walker.
Book Online or Call us at 218-836-2500!
CALL US:
(218) 836-2500
Make a Reservation
Trappers Ice & Fishing Reports
March 29th, 2023 LEECH LAKE ICE REPORT
March 24th, 2023 Leech Lake Ice Report
March 15th, 2023 Leech Lake Fishing Report
March 7th, 2023 Leech Lake Ice Report
Ice House FAQ