Ice Fishing Report 02.09.17
February 9, 2017
0
The Ice:
Great news anglers, with the help of mother nature we are making more ice, which will put us well over 25" on Leech Lake!   With the 38th annual Eelpout Festival a few weeks away, the more ice the better for driving your ice encampment across the lake.  Lakewood Lodge's Ice Road is open and traffic is not limited as we have plenty of ice for all sizes of truck and houses.  We still have a couple ice heaves up near the north end of Pelican Island. Please use caution around this ice heave, especially with this cold weather as the heaves will be shifting frequently.  
The Fish:
Walleye fishing continues to be in the early morning and evening hours for almost all of our anglers. Getting away from the large crowds is key right now and trying to stay mobile. Most anglers are finding the best action in 16'- 20'of water. Make sure you have one rod with a jigging spoon tipped with a minnow head and a setline with a Shiner or Rainbow minnow set almost on the bottom. During the day you can still find some fish but you have to drill a couple of holes and fish aggressively.  Many anglers are having success with larger Rapala Jigging Raps, size #7 or #9.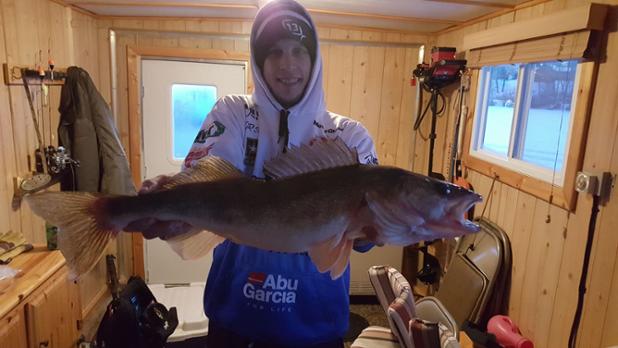 Perch action has been good across the lake. On our end of the lake the best bite has been in 20-25 ft of water at the base of the shoreline breaks. Use a jigging spoon tipped with a good amount of Euro Larvae or Waxies to get the most fish. If you are seeing a lot of lookers, make sure you set up some tip ups with smaller shiner minnows to catch some of the more finicky fish. In these same basin spots you will even find a few active whitefish and tullibee while searching for some active jumbos. They are always fun to catch on some light tackle.
The Prep:
Make sure you stop in to the Check-in building before you hit the ice!  We have your Lakewood Lodge Ice Road passes, live bait, cold Beer and a map of the Lakewood Lodges Ice Road.  If you're looking for a Lake Home for Eelpout, we have a few left, call our Team at 218-836-2500.  It looks like it will be a great weekend weather wise to chase some fish. As always be safe on all your outdoor adventures and we hope to see you on the ice.