Fishing Report 06.02.17
June 2, 2017
0
With the warmer weather moving in we have seen the walleyes start to head towards deeper water in the 16-20 foot range during the day, although some anglers on heavy overcast days and at night are still finding their fish in water less than 10 ft. Most anglers are starting to switch to more aggressive techniques using bottom bouncers with spinner rigs or slow death rigs tipped with a nightcrawler and trolling them about .7-1.5 miles per hour during the day. At night, a slip bobber with a shiner or jig and minnow combo are still the preferred method. Spots near Trapper's Landing to look are Rogers Point, Pipe Island, Diamond Point and the Clay Banks or Chippewa bar.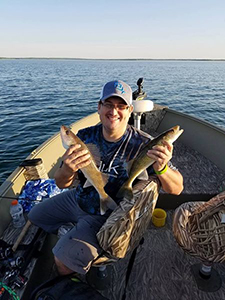 If the walleye are giving you a hard time during the day we have had excellent reports of Smallmouth bass being caught off of Diamond Point, Huddles Reef and Pipe Island. Most anglers are using Tubes, Maribou Jigs or the simple Bobber with plain hook and leech to target these fish. With surface temps reaching the low 60's they should start to show up on their beds any day, please practice catch and release with these fighters.
Musky season opens this Saturday. We have seen some fish get caught on accident by anglers targeting walleyes in the cabbage. Slow rolling a safety pin spinner, or smaller bucktail over the cabbage beds or shoreline points will be a great way to put a musky topside right now. It should be great weather this weekend to be out chasing fish. As always be safe on all your outdoor adventures.