Fishing Report 6.23.17
June 23, 2017
0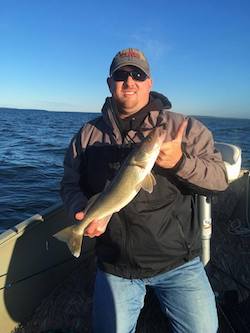 Despite the recent mayfly hatch on Leech Lake the walleye bite is still on and fish are being caught in numerous ways. Most anglers are finding their fish in 15'-25' on the main lake amongst the mid lake structure on the deeper, wind facing edges. Anglers are finding fish around the Pelican Island area, Variety Reef, Diamond Point and Huddle Reef structures. These fish are being caught using a 6' Lindy rig setup with a leech or a bottom bouncer with a Northland spinner rig set up with an inflated nightcrawler. Due to the current hatch, Rapala Jigging Raps have been working well due to their vigorous action, causing the walleyes and northern to attack them. During the evening time or low light conditions using a #5 or #7 Rapala Shad Rap in 12' of water or less has been working. The new UV colors have been working better than the original colors.
This weekend, Trapper's Landing Lodge will be hosting the annual Wounded Warriors "Take A Vet Fishing" tournament on Saturday. The public is welcome to join this great event as the Burger Buffet opens at 5pm, with all of the proceeds going to Wounded Warriors. The Trapper's Marina has everything you need from Premium gas, Cold Beer or a bag of ice!
We hope to see you on the water!