Ice Road & Fishing Report 12.28.17
December 28, 2017
0
Weather and Ice Report
It looks like this arctic blast will be with us through the next couple days with highs not even reaching zero until Thursday afternoon. The 4-6 inches of snow cover we have on the lake is insulating it nicely causing the ice not to move or have any cracks right now. Most of the smaller cracks we had earlier in the season have healed. On our Ice road we are open to ¾ ton trucks with tandem ice houses, and we are having reports of 18-20" of ice out to Huddle's Reef. The current Road system goes north to the end of Huddles reef and we have another road that ends on Variety reef, with multiple smaller roads going to choice reefs.
Fishing
Despite the cold weather we have had some good reports come in during the weekend. The best action has been reported on any rock hump that tops out in 16'-19' ft. Anglers are catching fish on the rattle reels or dead stick rods during this cold front. Hanging a shiner or a rainbow on plain hook is the ticket. During the day if you are willing to keep mobile in the cold, fishing in 20'-30' of water you will find some walleye willing to eat. They do prefer a jigging rap or ripping rap during the day better than the normal jigging spoon right now.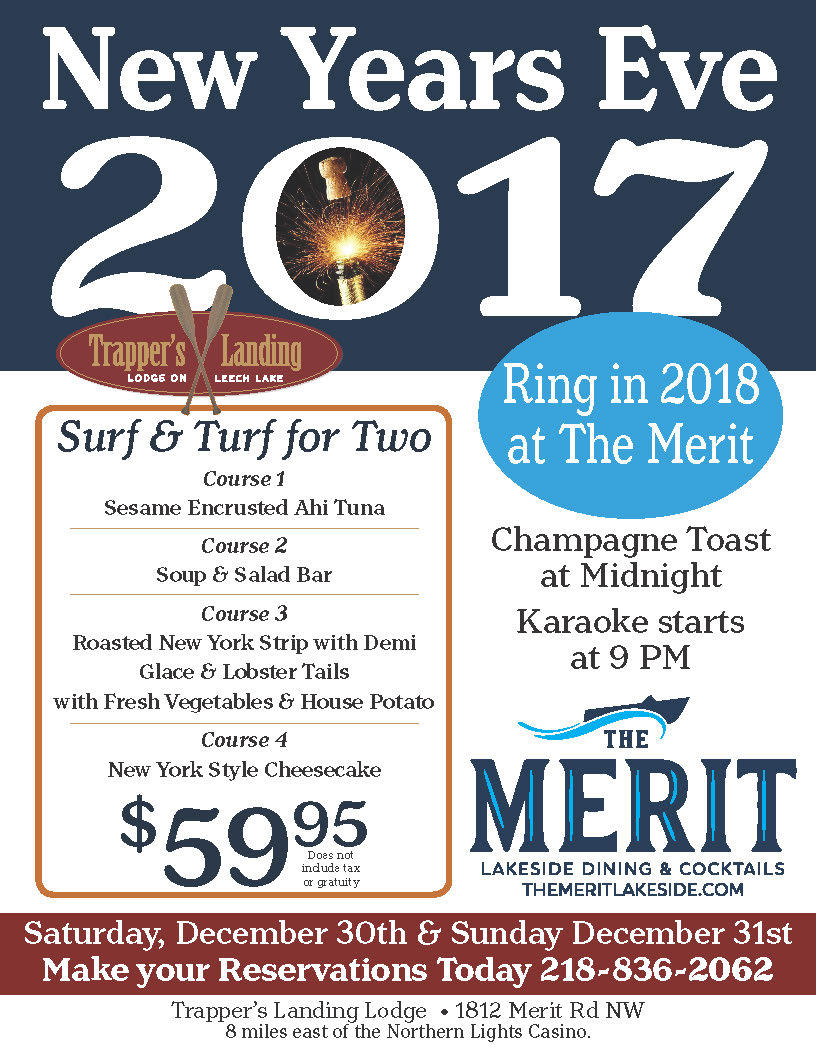 Looking Ahead
We will be open to all vehicle traffic this weekend. Please stop by the resort to get your passes and map of the roads as well as your beer and snacks. The Merit will be open Thursday-Monday, with a special Surf & Turf 4 course meal for 2 being offered Saturday and Sunday Night for $59.95. We still have limited availability on our rooms. The best deal of the week is our Lake Home Suite for $99 per night. Mix that with the News Years Special at The Merit and you have a great New Year's Eve weekend!
Walker Bay Report
Fishing in the Walker Bay area still continues to be good. Deeper humps are still producing fish in 25-30ft. The shoreline breaks along Cedar Point, Breezy Point and First or Second Point are producing fish as well, 16-22ft on these breaks. Get away from the crowds to find better fishing. Low light continues to be the best times of the day. Perch during the day if you can bear the cold to keep moving, find the transition from sand to grass in 6-10ft of water. As evening comes move out to the deeper breaks on Sand Point. Ice reports vary from 8-11'' in Walker Bay. ATV/UTV/Snowmobile is still the best options for travel in the Bay.
Ice reports coming from the Pine Point area are still very inconsistent. From Pine Point North to Goose Island ice conditions are very unstable. Lots of 6" ice has been found in this area. Any travel from Pine Point to Goose Island to Ottertail Point use extreme caution. From Pine Point west to the Narrow or up to the Hardwoods ice has been in the 11-13" range. Resorts in this area are still advising ATV/UTV/Snowmobile use only. Traders Bay has 10-14" in the main basin. Both perch and walleyes have been found on the secondary breaks in 14-20ft of water.