Ice Road & Ice Fishing Report 01.22.18
January 22, 2018
0
The warm weather this past weekend did not do anything to our ice sheet in front of Trapper's Landing. We are seeing 30+ inches of ice on the ice road and over 24" being reported off the ice road. We are open to all vehicles. Use caution when going off-road, there are some deep drifts. We have had reports of vehicles getting stuck. Make sure you bring a shovel or some chains for your tires. You can travel by vehicle north of Pelican, and towards Stony Point. The only big ice heave runs from Otter tail point down to the west of Uram Bay.
Walleye fishing remains spotty out in front of Trapper's Landing Right now. It is almost luck of the draw for walleye angling. You want to make sure you are in the transition zones and off good break lines. Depths in these zones are 16-24 ft. Setlines or jigging very aggressively will get most of your walleye. The nice part is the few walleye you will catch are very good sized. Anglers that can keep mobile and ice troll are having the most success out there.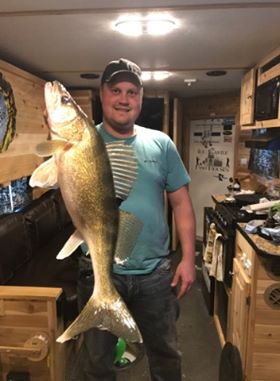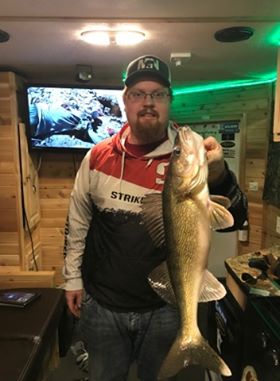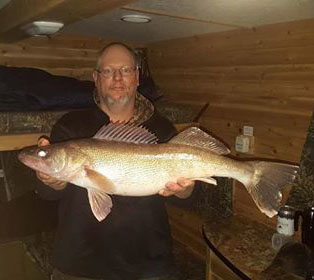 The Northern Pike and Tullibee are keeping anglers busy during the day. Northern are being found in the same depth zone as the walleyes and with the warm weather, they were very active this past weekend. Tullibee are being found in the basins in 24-35 ft. Drilling out a basin and keeping mobile is the best way to target them. Shiny jigging spoons tipped with euro larvae or a minnow head is your best way to get these fish to bite.
We are looking at another warm up for the end of next weekend. The Merit will be open this Thursday-Saturday again with some great specials. We will as always have updated road maps, bait, and some great snacks to take out with you on the ice. As always, be safe for all your outdoor adventures and we hope to see you on the ice.