Ice Fishing and Ice Report 11.28.18
November 28, 2018
0
The below average temps this past week has been great for the ice growth since our last report we have increased our ice thickness from 5.5 inches to 9.5 inches in a week! That is great news for those of you who want to venture out on your ATV's and Snowmobiles. We still want to urge caution as we have only been out to Huddle's reef, Rogers Point and Diamond point with that ice thickness. If you are looking at venturing past those areas on a machine, drill out ahead of where you are traveling. We do have one crack that you will have to cross that goes from Roger's Point over to Diamond Point, it looks like it has stopped moving the past couple days but still use caution when crossing. Walker bay at the time of writing this report still has open water pockets and it is advised that you do not travel on Walker Bay at this time.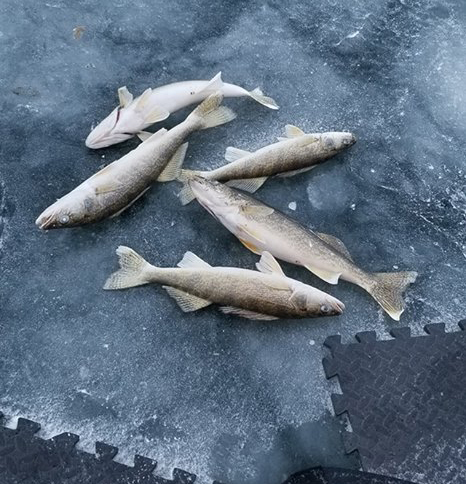 The walleye fisherman that have been out are finding a good amount of fish during the lowlight periods, while the daytime bite has been sporadic. The anglers fishing during the day has had some success off of Diamond Point and Huddles Reef in 18-25 ft of water while most of the evening bite in those areas are a little shallower in 15-18 ft. Anglers during the day are using #7 Jigging raps or Acme Hyper Glides to get a reaction strike. Their favorite colors are Firetiger, Gold/Black or White. Anglers fishing during the lowlight hours are using Northland Glo Shot Spoons, or VMC TIngler Spoons tipped with a minnow head, in an orange, red or glo green patterns. Make sure you have a set line with a shiner or rainbow below a bobber, it seems like you can jig them in and they prefer that set line over the jigged line almost 90 percent of the time.
Panfish on leech right now is a little bit slow but the local lakes are kicking out some good solid numbers of keeper bluegill and crappie. Most of the panfish are starting to move off of the edges of the weed lines and are moving out towards the basins. Drilling lots of holes and keeping on the move is the best way to target these fish right now.
We will be down talking ice fishing and booking winter fishing trips this weekend at the 26th annual St. Paul Ice Fishing Show. The resort will be open to guests wanting to head out on the ice with their snowmobiles and ATV's. Stop by the front desk for a map of where to go. Also, the Restaurant will be open Thursday-Saturday for some great dinner specials. We look forward to talking ice fishing on Leech Lake with everyone at the Ice show and we hope to see you on the ice.